The global transportation industry is massive and growing at a rapid pace. Forecasters predict the market will increase at a stunning CAGR of 3.4% until 2027.
But as transportation revolutionizes, newer, more complex inventory movement processes are entering the industry. In shipping, most goods travel thousands of kilometers overseas to reach their destination. That means multiple transportation modes!
In today's article, we'll discuss how multimodal transportation promotes the optimized movement of oversized cargo. We'll also explore multimodal transportation: definition, benefits, and challenges the industry faces. Further in the blog, we'll unveil why Atlantic Project Cargo acts as your one-stop multimodal transportation solution:
A Quick Glance at Multimodal Transportation
Multimodal transportation refers to a robust transport operation comprising various modes of transport to move commodities. This transportation approach focuses on maximizing the strengths of different movement modes and reducing challenges.
Although multimodal transportation involves diverse modes, a single operator organizes it. That means you'll receive one bill of lading for using road transportation, railway, and air or ocean freight!
Why Does Multimodal Transportation Matter?
Research shows that over 2.64 billion people shop online, and up to 57% of buyers pay via International credit cards. As e-commerce and cross-border selling increase, so does the need for shipping companies.
Most retailer brands now seek multimodal transportation solutions to deliver products worldwide. Users can build their goods' transportation journey by contacting a robust multimodal transportation provider.
Top 8 Benefits of Multimodal Transportation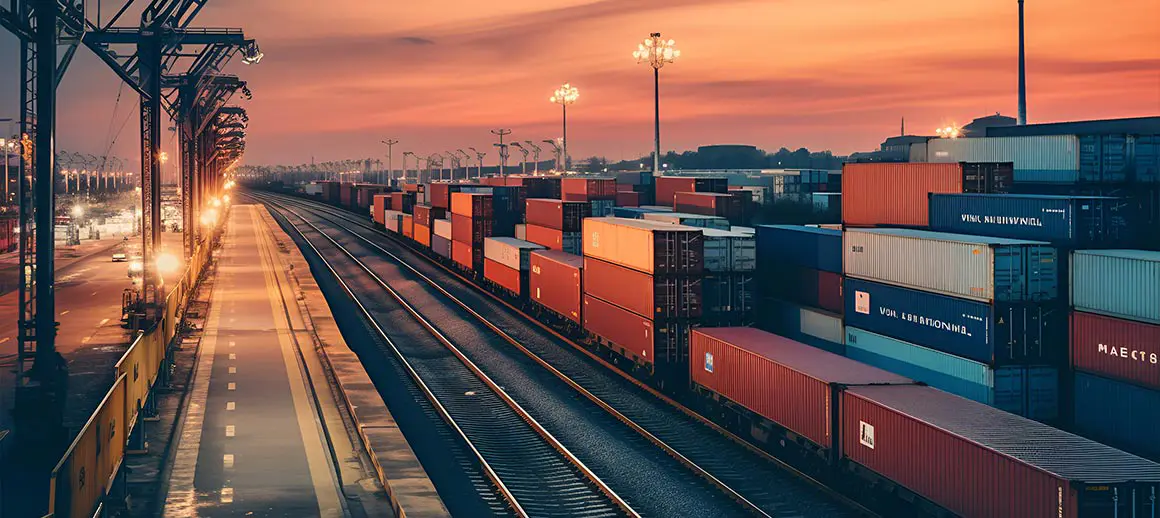 Multimodal transportation offers users several crucial advantages, including:
It Helps Save Costs
The top benefit of multimodal transportation is that it helps you save massive costs. With the multimodal mode, you can unlock discounts and negotiate competitive prices using a 3PL's vast knowledge.
Typically, your multimodal carrier will offer discounts when you entrust them with heavy equipment or a significant amount of goods for long periods.
It Reduces Time
Multimodal transportation allows you to reduce time loss and increases efficiency. Typically, different transit modes offer varying times based on their capabilities and available routes.
However, a multimodal transportation provider will create the fastest route by utilizing appropriate transportation modes. It also ensures you don't have to stress about the unavailability of space or vehicles.
It Improves Communication
Clear communication and coordination are critical factors for streamlining the multimodal transportation strategy.
But the good news is that multimodal transportation involves fewer friction points and one primary carrier. So a single contractor will handle the transit and collection of goods and related documents.
That means no back-and-forth sending emails or day-long phone calls. If you face a problem, you can discuss it with your primary contractor, and they'll take care of the rest!
It Eliminates the Stress of Formalities
There's nothing worse than filing hundreds of documents to discover that you missed one. Luckily, multimodal transportation takes the burden of documentation off your shoulders.
To ensure minimal issues, your contractor will help you issue the relevant certificates, forms, and other formalities.
It Ensures Faster Transit
Freight driving and shipping mandates, such as the ELD, restrict the time a shipper can move goods. The rule applies to road transportation: Full Truckload (FTL) and Less-than-Truckload (LTL) brokerage costs productivity and deadlines.
However, in multimodal transportation, there are no availability issues. It results in faster transits and improved efficiency.
It Involves Less Admin
A single multimodal carrier means no time, cost, or logistical issues. You can rest assured your contract will coordinate with the sub-contractors.
So, the only thing you must do is talk to your contractor.
It Helps Meet Deadlines
Your customer's satisfaction depends on the on-time delivery of products.
To ensure this, supply chain efficiency and logistics management are crucial. Fortunately, multimodal transportation offers both!
It Decreases Pollution
Another excellent benefit of multimodal transportation is that it helps reduce pollution.
While using a single vehicle can cause congestion, multimodal transportation resolves this issue. For instance, instead of using a strictly road transport, businesses can integrate air and rail instead.
In addition, it reduces your carbon footprint as different vehicles consume and emit varying amounts of carbon.
What are the Challenges of Multimodal Transportation?
Multimodal transportation has its fair set of challenges. These include:
Lack of Tracking Capabilities
In long-haul freight, tracking your shipment can be tricky. You'll need a combination of tools to track your shipment's real-time location.
Excessive Documentation and Paperwork. Although multimodal transportation comprises less paperwork, it's still bothersome. It can take hours to process invoices and sign documents.
So, why not go paperless?
Multimodal vs. Intermodal Transportation: What are the Differences?
Although most people confuse "multimodal" with "intermodal," the two terms are pretty distinct in numerous ways. For starters, intermodal shipping involves multiple companies and contractors.
So, in this transportation mode, you have to create different invoices and reports at every step and new contractor. On the contrary, multimodal entails a single contractor and bill of lading. Therefore, in multimodal transportation, the primary carrier hires and handles subcontractors.
Moreover, intermodal transport incurs comparatively lower costs. But the negotiation and logistics require significant time. Conversely, multimodal offers safer, time-efficient, and cost-effective transportation.
Lastly, multimodal transportation eliminates the headaches of keeping up-to-date with subcontractors, varying availabilities, and inconsistent efficiency. Instead, you can enjoy on-time and productive deliveries alongside sophisticated and accurate tracking.
Why is Atlantic Project Cargo the Perfect Solution for Multimodal Transportation Problems?
Multimodal transportation is an excellent option for businesses seeking optimized International shipping and increased efficiency. Go beyond customer satisfaction and grow sales with Atlantic Project Cargo's leading multimodal transportation solutions!
With our certified multimodal carriers, you can unlock the best combination of road, railway, air freight, and ocean freight! We empower you to meet tight deadlines and transport breakbulk/bulk orders with optimized, cost-effective multimodal transportation services.
What's more? Atlantic Project Cargo promises users decreased transportation costs, time-critical (expedited) services, no "breaks, and a single bill of loading. Besides, we offer access to perishable and dry shipping, multimodal transportation, and humanitarian aid shipping! We also provide flat racks for specialized transportation, Ocean freight: LCL and FCL, reefer shipping, break-bulk/bulk transportation, and open-deck shipping.
So, ready to take advantage of our efficient and on-time multimodal transportation services?
Multimodal transportation offers endless perks by providing flexibility, time efficiency, increased savings, and timely deliveries. You can contact a reputable 3PL today to leverage this transportation mode and enjoy its benefits.
Get started now by contacting Atlantic Project Cargo's professional and friendly customer service team. With our help, you can unlock optimized routes and business success!