Over 11 billion tons of cargo is shipped annually, representing 80% of the supply chain. However, research shows that shippers lost an average of 661 containers in 2022.
Thus, to avoid this, successful traders must create comprehensive shipment plans to identify how their cargo will reach the final destination, who will pay for losses and damages, and what costs fall into the exporter and importer's responsibility. Shipping Incoterms are standardized rules and regulations that help you answer these questions!
With these internationally recognized, exporters and importers can enjoy a smooth, seamless, and error-free transaction. Below, we'll explore the 11 Incoterms and how they benefit sellers and buyers.
UNDERSTANDING INCOTERMS 2020​
RoRo shipping, also known as "Roll-on/Roll-off" shipping, refers to a method of transportation that involves the movement of wheeled or truck cargo by driving it onto and off a shipping vessel rather than using cranes for lifting. This method is commonly used to transport vehicles such as cars, trucks, trailers, and other self-propelled units.
During shipping, these vehicles are securely fastened to the vessel's deck to ensure safe transit. The RoRo shipping process allows for efficient loading and unloading of cargo, making it a popular choice for transporting wheeled vehicles across different locations.
Incoterms Rules for All Transportation Modes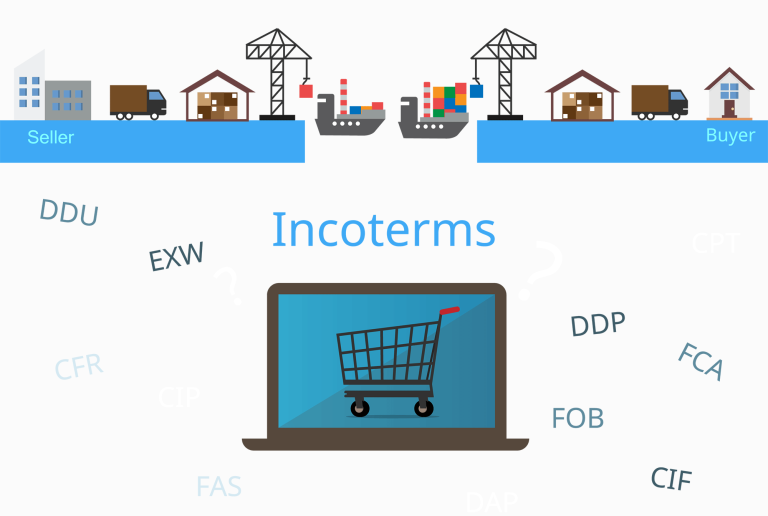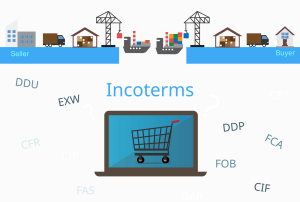 Carriage & Insurance Paid (CIP)
CIP indicates that the seller will cover the shipping and insurance costs. Once the shipment reaches the pre-determined destination, the cargo transfers to the buyer, making them responsible for the rest of the shipping process.
With CIP, the ICC requires sellers to buy freight insurance.
Carriage Paid To (CPT)
CPT shipping terms designate the shipping costs and unloading responsibilities to the seller. However, the buyer must unload the cargo at the defined delivery spot and transport it to its final destination.
Delivered at Place (DAP)
In DAP, the sellers must deliver the goods to their final destination. Next, the buyer has to unload the shipment and pay for customs clearance, import duty, and customs clearance.
Delivered Duty Paid (DDP)
With DDP, sellers are responsible for the cargo's delivery to a determined location, including clearing taxes, duties, and clearances. After that, the responsibility shifts to the buyer, who must unload the shipment and cover relevant costs.
Delivered at Place Unloaded (DPU)
DPU terms that sellers must carriage, deliver, and unload the cargo at its final location. Once done, the buyer is responsible for clearing taxes, customs clearance, and import duty.
Ex-Works (EXW)
EXW indicates that the seller is responsible for packing the goods, whereas the buyer must pack and ship the cargo. Moreover, with EXW, the consumer bears the shipment risks.
Free Carrier (FCA)
FCA terms require the seller to transport the cargo to its final destination before transferring responsibilities to the buyer. Therefore, the customer is responsible for unloading and paying for the goods.
INCOTERMS RULES FOR SEA AND WATERWAY TRANSPORTATION​
What are the Differences between Freight Collect and Prepaid?
Freight Collect and Prepaid are common international freight terminologies. The phrase "Freight Collect" refers to the following four Incoterms that require buyers to cover freight charges: EXW, FAS, FCA, FOB. Contrarily, "Freight Prepaid" involves the seller paying for the shipping costs, including: CIF, CIP, CFR, CPT, DAP, DDP, DPU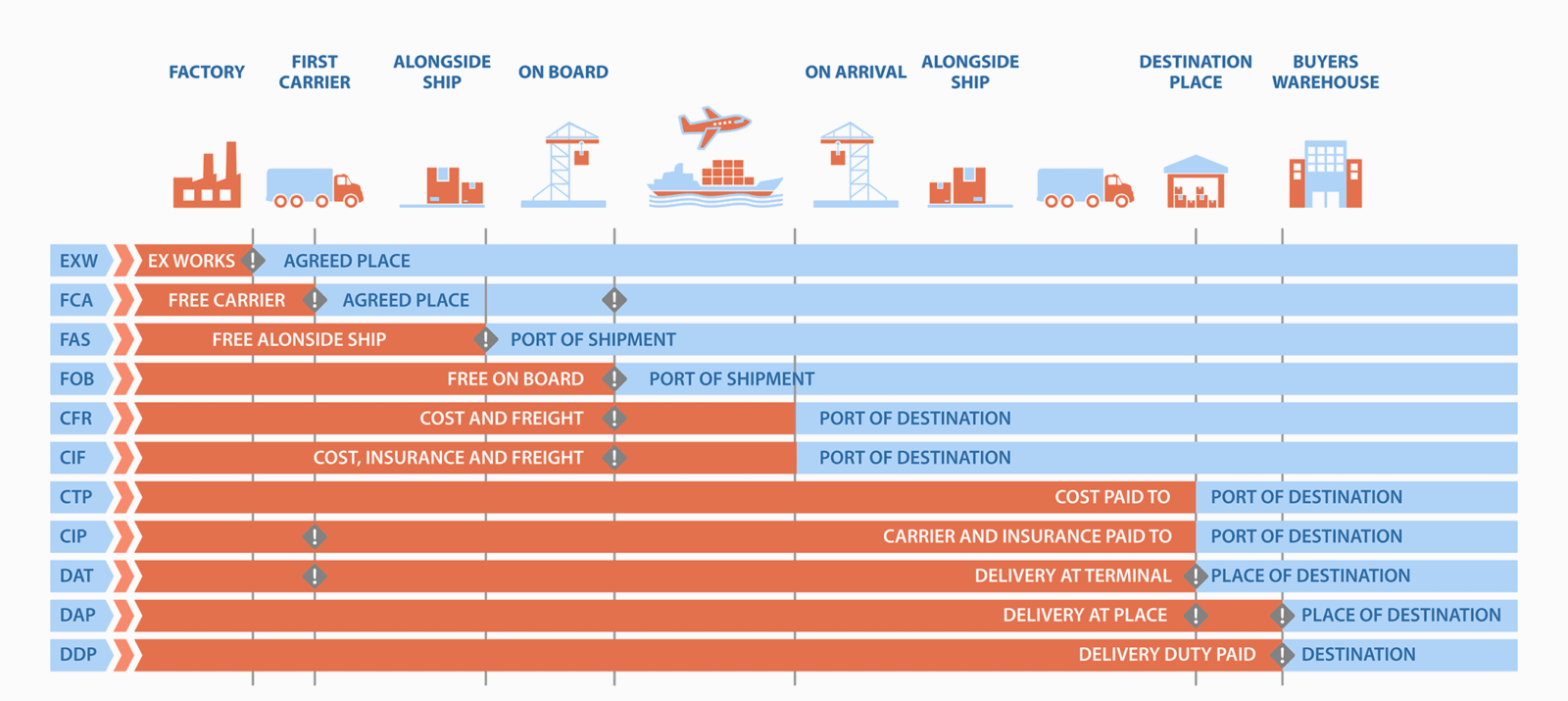 Who Decides Incoterms Rules?
Incoterms are international trade terms that reflect the latest global trade processes. So, the ICC Commission updates these rules every ten years with a party of specialized experts from numerous fields.
What are the Benefits of Using Incoterms?
Incoterms create a binding agreement between the buyer and seller, outlining the responsibilities, costs, and risks. Companies can ensure seamless communication and avoid role confusion with these standardized terminologies. Language barriers can complicate international trade, so using globally recognized terms can simplify the transfer of goods. Besides, Incoterms facilitates cost and liability management to ensure a successful and error-free shipping process!
What are Incoterms Responsibilities?
As discussed, not all Incoterms are applicable for all types of transportation. Thus, knowing which Incoterms are valid for inland waterway, land, air, and sea transport is crucial to cover risks, expenses, and liabilities.
Remember the Incoterm mentioned above division to avoid confusion and ensure successful international shipment.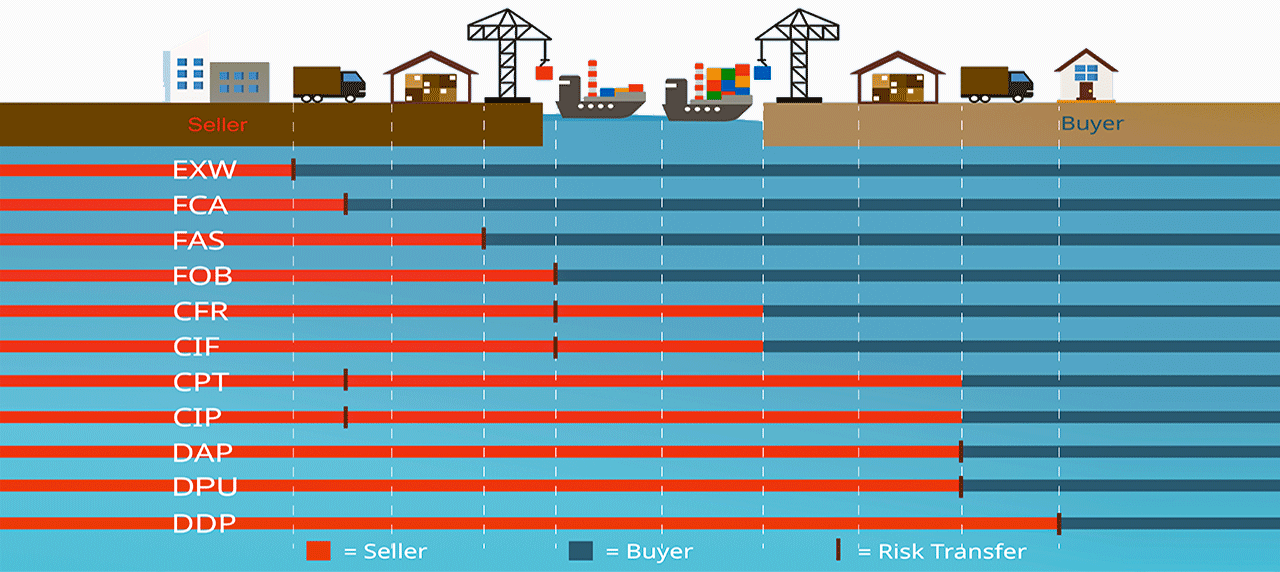 Types of Insurance Sellers' Need when Shipping CIF/CIP Intercom
CIF and CIP Incoterms require sellers to obtain freight insurance before shipment. Both terms have unique requirements, which includes:
• CIP requires sellers to purchase insurance with the Institute Cargo Clause A coverage.
• CIF Sellers must obtain freight insurance with a minimum Institute of Cargo Clause C coverage.
How Do Buyers and Sellers Determine the Ideal Incoterm?
Most sellers select Incoterms that match their and the buyer's unique needs. However, buyers can communicate with the trader to agree on the best Incoterm for their cargo.
Moreover, sellers should list the terms on the purchase agreement, contracts, and invoice for Incoterms to be valid. However, no additional documentation or forms are required for selecting an Incoterm.
What's not Included in Incoterms- Things to be Aware of as a Buyer
Incoterms are crucial to highlight the responsibilities of the buyer and sellers during overseas transportation. However, these rules do not cover everything:
It does not identify the sale's condition, types of foods, and contract price
It doesn't outline when ownership of the cargo shifts from the seller to the buyers
It will not specify the documentation sellers must provide to the buyer for customs clearance
It does not define the liability for the failure to provide the cargo on time or dispute resolution strategies.
Knowing Incoterms and their application in international trading ensures an error-free and successful shipment. Moreover, these terms can change, making it essential for exporters and importers to stay up-to-date. Atlantic Project Cargo takes the hassle of selecting the best Incoterms off your shoulders with its expert freight transportation service providers! Visit our website to enjoy a seamless international trading process.